Are You Ready For Lawn Care Advice
That Produces Results?
COMPLETE SOLUTIONS: LAWN CARE FOR EVERYONE
Feast your eyes on a luxurious, emerald green lawn!
Feel the soft, cool texture of the grass beneath your feet!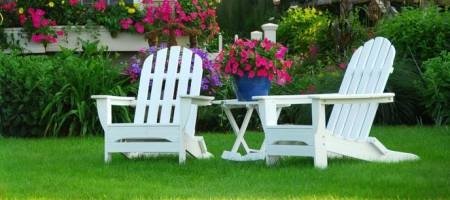 Can you claim that reality, or is it still just a dream?
How do you create healthy grass and protect it? Few garden projects provide the same satisfaction as an elegant looking lawn.
You invest time, energy, and money to acquire the beauty and benefits of a grass lawn. Now you can keep it looking great!
Do you have Questions about lawn care?
The Garden Counselor provides Answers about maintenance, correcting problems and lawn projects.
Does your lawn need minor repair or major renovation? Can you do it yourself? Discover how to make that happen!
Do You Need An Easy-To-Follow
Lawn Care Guide?
Get the whole story so you can grasp the fundamentals and understand the details. A proper Do-it-yourself Guide with explicit instructions makes all the difference!
Learn the basics of building a gorgeous lawn fit for a queen;
Identify sources of recurring problems in a lawn and fix them;
Eliminate weeds, pests, diseases and don't invite them back;
Know when to fertilize, what to use and how much to apply;
Determine when and how to perform regular maintenance;
Install or repair a lawn using

grass seed or laying sod

;
Select a new type of grass that fits your conditions and needs;
Repair or set up an irrigation system to save water & trouble;
Prevent unnecessary expenses and wasted time;
Evaluate and choose the correct lawn care service company;
Invest in appropriate garden equipment and tools.
One step at a time, all of this becomes possible... when you have a source to help you plan, prepare and perform.

Trophy Winning Turf?  - or -
Simply Green and Keep It Simple?
One goal of the Garden Counselor is to inform you of practical alternatives. There is NO "one-size-fits-all" solution.
What's right for you has to be what is feasible. Are you restricted by time, energy, money or health? Then you deserve to know more than one way to deal with your lawn care issue.
Look at the information. We'll help you weigh the costs of different approaches. You evaluate the options. Then make a choice that works!
That's your path to success with your lawn, yard and garden!
Are you ready to let the Counselor be your guide?
Where To Start
Option #1: 
Go to the  SITE MAP  pages to see the complete list of categories with their associated articles.
More topics are being added regularly and upon request!

---
Option #2:
Quick Topic Search by Keyword. Use the Google Search function to find articles that include your item of interest. The Search Results will be confined to this Lawn Care site. 

Just enter your word or phrase in this Google box.
Custom Search
The search function can also accessed anytime by clicking the Site Search button on the Navigation Bar found on each page.
---
Option #3:
Browse through the Yard & Garden Topics listed on the  MENU/NAVIGATION Bar of every page.

(Find this button above the actual page for mobile devices.  The full list is on the left column for larger computer devices.)
A chain of articles will lead from each button, in most cases. 
FTC Disclosure:  If you make a purchase via a link on this site, I may receive a small commission on the transaction. Commissions or referral fees result in no added cost to you. Thank you for visiting the Garden Counselor site!
---
Sponsored Links
---
For Future Fun:
Sign up for RSS Feed to get notices of new material as it is posted on the site. It's the easiest way to get updates at your convenience.
Get information on RSS Feed.