THE PLANT SLANT:
Gardening Tips - Lawn Care News
Gardening Tips that go beyond the ordinary... 
add a slight twist... 
explore a new path... 
you have just found... THE PLANT SLANT!
Enjoy a FREE monthly newsletter from The Garden Counselor!
Gardening Tips To Make Your Plants Healthier and You Happier!
Articles that inform, stimulate, and (hopefully) entertain, for the novice and the well-practiced gardener!
Resources and references to expand your gardening awareness and opportunities!
Answers to questions from our members on many garden topics.
Don't Miss An Issue! Sign Up Today! Go To Sign-Up Form Now, to subscribe to The Plant Slant, or keep reading to discover more about this e-zine!
How's Your Green Thumb?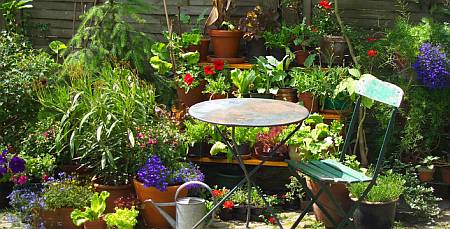 Do you try to rescue every new plant you see at the local nursery, and then wonder where to put it in your garden?
Or is your greatest gardening accomplishment keeping your house plants alive from one Mother's Day to the next?
Perhaps you just wish there was an easier way to get through the gardening chores or prevent problems?
Do you have a friend who could use some gardening tips?
Welcome!
We have a lot to talk about! Let's meet on a regular basis. This is what we'll do:
Have a good time discussing how plants grow and why sometimes they don't.
Cover gardening basics to help the new gardener. If you have experience, pitch in and share what you know.
Discuss some more difficult topics too. You can make requests. We'll look at alternate opinions as well.
Broaden our horizons by: exploring new trends in the world of gardening; reviewing plants for different garden applications; and introducing great ideas for your yard and garden.
I'll throw in a bit of humor and a dash of perspective, just to keep the mixture fresh (or spicy?).
The range of topics for gardening tips will be broad, but flexible. I love to teach, I love to garden, I love to help people feel good about what they do. Translation: The Plant Slant newsletter will help you enjoy gardening as much as I do!
What Interests Do You Have?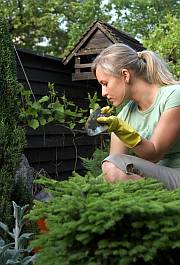 landscape plants?
lawn care?
vegetable gardens?
organic gardening?
plants in containers?
controlling pests and problems?
being a smart gardener: saving money, time and effort?
other subjects or concerns?
Your feedback will determine which categories become regular column features, and which will have occasional articles.
So plan to keep in touch!
Sign Up Now
Editor's note: The newsletter format is undergoing revision.
The next issue of The Plant Slant will be sent out via e-mail on: 
"date uncertain".

Please feel free to subscribe at this time, and you will receive the new Plant Slant as soon as it is available. Thank you.

Disappointed? Don't Fret! Check Out all the Gardening Articles currently available:
Go to The Site Map for a list of categories with specific topics.

Go to The Home Page and select topics from the Navigation Bar or Table of Contents.

Or use this Search Box to search exclusively in the Garden Counselor site by typing in any keyword of interest.
Custom Search
Sign Up For The Plant Slant
Please check your e-mail address for accuracy before submitting.
Don't hesitate to subscribe, there is no danger and no nuisance. You can un-subscribe at any time. Newsletter members will NOT receive unsolicited e-mails or advertisements, only the Plant Slant Newsletter.
Your information is 100% safe. I will not sell, rent, trade, or release your name to any third party for any reason; nor will I borrow your name to use on my own children or pets.
Do Gardening Tips Help?



BEFORE




AFTER

Look at the amazing difference in one gardener who developed a fresh, healthy perspective about
life and lawns
after reading
The Plant Slant Newsletter!
Please tell your friends about the topics you find helpful and invite them to discover The Plant Slant and the Lawn Care website.
Thanks for visiting! Come back soon!

BRING ON SPRING!
A Stronger, Greener Lawn
Starts Now...
with help from DoMyOwn
Products * Videos * Schedules * Guides